PHP is the underlying programming language that powers WordPress. As time goes on, programming languages improve and grow which often includes more performance; better security and new features being available.
Like most software, there comes a time when older versions are no longer supported. Now has come the time for PHP 7.2.
As of November 30th 2020, the server your website runs on will no longer receive security updates for PHP 7.2. This means your website may become vulnerable to security attacks should newly found exploits be discovered.
We need to move your site to an updated (and higher spec'd) server which runs the latest version of PHP, however your website will require updates which unfortunately will incur a fee to do so of $450 + GST.
There are upsides to this, however. The new environment supports the latest version of PHP and this newer version of PHP is significantly faster in processing. This should lead to improved page load speeds and a better experience for your website users as well as making it easier & faster to make updates to your own site.
Google ranks sites higher in their search algorithms for those with higher speeds, so there's a good chance your site will improve its Search Engine Ranking Performance (SERP) – ie what page it comes back on a Google search.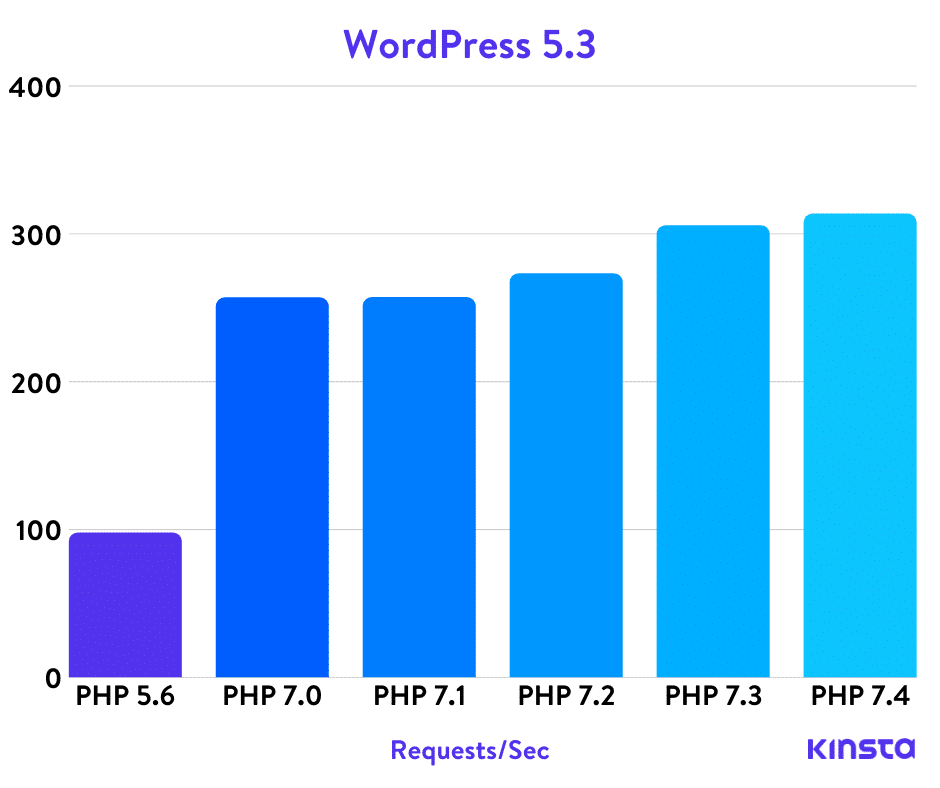 Img src: Kinsta
What's included
As part of this work, we'll update your site's hosting to support the latest version of PHP (7.4). We'll also update your website to the latest versions of WordPress and associated plugins and fix any issues that may arise. We'll test the site thoroughly and ensure everything is working perfectly.
Moving forward
The new hosting service we're moving your site to is an improved offering, and as such, additional monthly fees are incurred. We haven't raised your hosting costs in quite some time, however we're needing to as part of this as there's more costs to operate the hosting side of the business.
We understand that increasing prices plus an unexpected cost simultaneously isn't easy on businesses, so we're providing our new hosting at your current rates until the end of the year. In the new year, your hosting fee will increase by $30 + GST.
There are more features you'll receive as part of this improvement and largely centre around improving security and ongoing performance. You'll receive:
Monthly updates to WordPress and all plugins

This aids with improving security and keeping pace with updates. Not updating plugins is the #1 reason for WordPress hacks which is costly to fix

A monthly report including:

WordPress updates – a comprehensive list of all updates that were performed on your website
SEO ranking report – how your site ranks in search engines for your keywords and compares to performance in the previous report
Up-time monitor – every minute the site is checked to ensure it's available to the world. The report will outline any outage incurred throughout the month
Performance score for your website – provides an overall grade for the website's performance based on Google PageSpeed. It also outlines where items can be improved to gain a better grade (and a faster site)

This monthly report is emailed to you at the beginning of each new month which provides peace-of-mind that your site is performing at its best
If you have any questions, we'd love to talk to you more about it. Email Glen directly or call him on 0412 998 136.